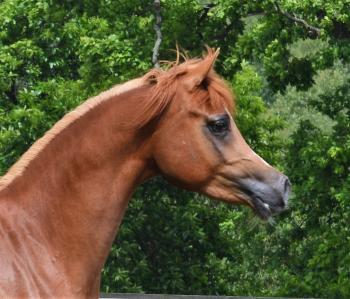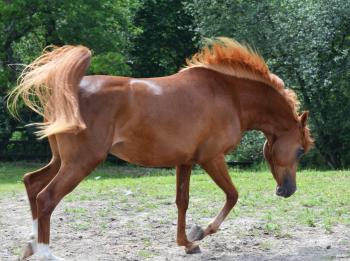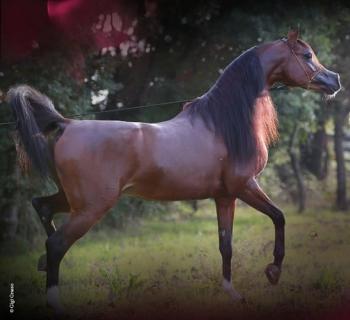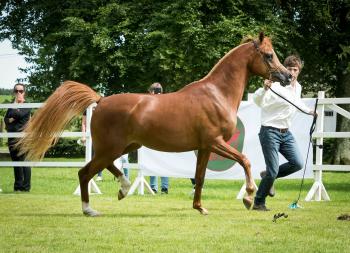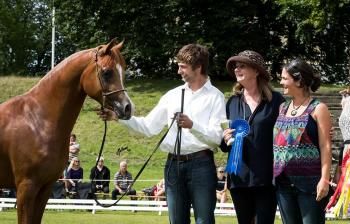 Abraham Umm
Abrahan Umm, now four years old, combines outer perfection of beauty and elegance with the most friendly minds. He is the son of the World Champion Stallion FADI AL SHAQAB.
About his Sireline
FADI AL SHAQAB is by Besson Carol - 2003 US and Canadian National Reserve Champion Futurity Stallion. Besson Carol was bred by Ailton Jose Braga Domingues in Brazil, sired by the tall, powerful Parys El Jamaal (Ali Jamaal x FF Pavielle/Gdansk). Parys resemble a lot of his maternal grandsire Gdansk (Bask x Gdynia), with a long high-set neck and being extremely athletic.
Gdansk has a pure Polish pedigree representing the celebrated Milordka dam family through Canaria (Trypolis x Saga). His dam Gdynia was a great moving daughter of Comet (Abu Afas x Carmen) and her dam Gwozdawa was by Nabor (Negatiw x Lagodna) out of Gwadiana (Amurath Sahib x Gwara/Wielki Szlem x Canaria). With a sire of Polish origin the dam of FF Pavielle was a blend with predominately Crabbet bloodlines but belonging to the dam family of Milordka, giving FF Pavielle two crosses to this valuable family where you can find horses today ike Emandoria, Emigrantka, El Dorada. FF Pavielle´s dam FF Azuree was a daughter of the great Gai Parada (Ferzon x Azleta) and out of Ibageyma (Geym x Ibit). Geym´s dam Rageyma and Ibit´s sire Ibn Mirage was fullsiblings by Mirage db. and out of Kareyma (Naseem x Julnar). Ibit was in her turn out of a mare called Little Bit and she was a daughter of Raseyn (Skowronek x Rayya) giving FF Azuree several crosses to Skowronek (Ibrahim db. x Jaskolka). Little Bit was bred by the US Government as his dam Chloe (Lirnik x Malaga) was bred at Mirki in Poland and brought to USA in 1945.
Parys El Jamaal was 1997 US National Reserve Champion Stallion and he has been a great producers of both sons and daughters. Among his offsprings are The Millenium (Parys El Jamaal x Evening Starr) was 1999 US National Reserve Champion Yearling Colt, Shalina El Jamaal (Parys El JaParys El Jamaal´s sire Ali Jamaal was bred by the Berggren family in 1982 and from the beginning he wowed everyone with his perfect ears, pretty head and charisma. He was the perfect blend of his Straight Egyptian sire Ruminaja Ali (Shaikh Al Badi x Bint Magidaa) and his beautiful dam Heritage Memory (El Magato x Heritage Labelle), linebred to Ferseyn (Raseyn x Ferda) with 4 crosses to him in her first four generations. maal x Shahlina) was 2003 US National Champion Mare.
As a 3-year old Ali Jamaal was named unanimously US National Futurity Champion Stallion. A year later his path would cross with a Brazilian breeder - Lenita Perroy - and not only her breeding program at Haras Meia Lua but the whole worlds breeding would forever change and the phenomenon Ali Jamaal had secured his place in the history books. In 1989 Lenita sent Ali Jamaal back to USA to be shown at the US Nationals and in a brutal competition with four previous Reserve Champions among the contenders Ali Jamaal won and went back home to Brazil named US National Champion Stallion.
Besson Carol´s dam Classic Krystall (Simeon Shor x Frangelica) was bred by Gene LaCroix. Simeon Shor was a 1983 grey stallion bred by Marion Richmond of Simeon Stud. He was a Straight Russian stallion and his sire Antey was a son of Aswan and out of Nemezida (Arax x Nepozeda). Nepozeda was a daughter of Nomenklatura (Naseem x Mammona) who also was the dam of Nabeg. Simeon Shor´s dam Nadira was also by Aswan making Aswan both paternal and maternal grandsire to Simeon Shor. Nadira´s dam Napersnitsa was a daughter of Pomeranets (Priboj x Mammona) and out of Nitochka (Naseem x Taraszcza), the full-sister to Negatiw.

Frangelica was a daughter of Swedish and US National Champion Stallion Aladdinn (Nureddin x Lalage) and out of Annisette, a daughter of Cognac - the full-brother to Gdansk. Annisette belong to the dam family of Rodania db., the same valuable dam family of Kullatorp´s foundation mare Prognoza (Etogram x Palestra).

FADI AL SHAQQB´s dam is one of the most treasured Marwan Al Shaqab-daughters, Abha Myra, bred by Marieta Salas, Yeguada Ses Planes. She was born in 2003 and was Spanish National Champion as a yearling before she was exported to USA. She has been Scottsdale Reserve Junior Champion Mare and US National Reserve Junior Champion Mare.

Abha Myra´s dam ZT Ludjkalba was bred by Zichy-Thyssen Arabians in Argentina and she is by Ludjin El Jamaal (Ali Jamaal x Lydira El Shaklan) and out of ZT Shakalba (El Shaklan x Countess Alba). Countess Alba was born in USA and she was by Naibn Moniet (Ibn Moniet El Nefous x Roufah), a Straight Egyptian Stallion bred by Jay W Stream. Her dam Gavrelle Dawn was a daughter of Gai Parada (Ferzon x Azleta) and out of Gavrelle (Ferzon x Gajala), with a high concentraion of Skowronek-bloodlines.

About his Damline
You can never enough emphasise the importance of a strong dam-line and this has been one of Kullatorps strongest pillars choosing mares and stallions to our breeding program. Abraham´s damline is Jellabiet Feysul d.b. approx.1848 through the Babson foundation mare Maaroufa. She was the youngest mare of the Babson import from Egypt and came to USA as a yearling. She was a daughter of Ibn Rabdan (Rabdan El Azrak x Bint Gamila) and out of the beautiful mare Mahroussa (Mabrouk Manial x Negma). In a letter sent from Egypt by Mr. Humphrey (the agent sent to Egypt to purchase horses for Mr. W. R. Brown) he says that Mahroussa was considered to be second only to her dam Negma who Prince Mohamed Aly said was "the key to all that spells quality and true Arab".
Maaroufa was a full-sister to the valuable stallion Fadl and both of them have had a huge impact on the Babson breeding. Maaroufa had a total of 17 registred offspring of which 15 was Straight Babson Egyptian, 13 of these were by Fay-El-Dine (Fadl x Bint Serra I) and 2 by his full-brother Fa-Serr. Aaroufa (Fay-El-Dine x Maaroufa) is the dam of Roufas (by Fa-Serr) US Top Ten Park Horse, English Pleasure and Formal Driving and 1974 Reserve National Champion English Pleasure; Bint Aaroufa (by Fa-Serr) US Top Ten Park Horse; and the stallion Mahrouf (by Fabah) Regional Champion Park Horse and the last Senior herd sire at Babson with 27 sons and 28 daugthers to his credit.